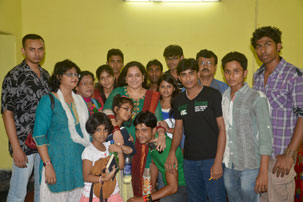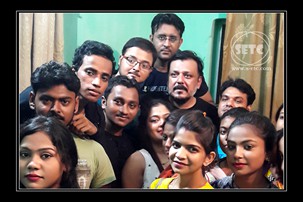 Dhakuria Office
Many people have the dream of living reel life at least once. May it be like an actor, a model or a dancer? Most of the people never live up to these dreams. But for those who are passionate enough and willing to overcome the challenges in their way, one of the best acting institute in Dhakuria SETC Institute has brought a chance to make their dreams come real. For an institute that is successfully running for thirteen years and has produced some of the marvelous gems of Bangla TV industry, no dream of yours is really impossible.
Why Us?
In one of the best dance institute in Dhakuria we provide regular training on dance, modeling and acting by some of the well known personalities of the TV industry. Our trained students are working on both small and big screens.
We give more stress on practical classes along with necessary theory sessions.
In order to work on the Silver screen, the knowledge of camera is very important. In SETC special focus is given on camera classes. Makeover and Grooming are also given an equal stress.
We exercise a very nominal course fee.
We also help students in developing their professional portfolio which will allow them to work with different production houses.
In addition, we also maintain our own setup, dress, accessories, stylist, and photo editing session to get the students' camera ready.
The casting directors of different production houses come to our modeling institute in Dhakuria to take auditions for casting in different serials.
Our Faculties
Good students require Great teachers. We maintain some of the most qualified and well known faculty members having tons of experience with camera and performance. They shape the students with their dedication and hard work. Just to mention, a few of the marvels that we have produced are-
Shantilal Mukherjee, Ratna Ghoshal, Anamika Saha, Sanghamitra Banarjee, Moumita Gupta, Aparajita Adhya, Manasi Sinha, Tulika Bose, Rajesh Sharma, Arun Banarjee, Mrinal Mukherjee, and Poonam Jha (Director, SHREE VENKATESH FILMS).
Our Tie-Ups
We have our tie-ups with- E-TV Bangla, Zee Bangla, Akash Bangla, ABP Ananda, Sangeet Bangla, Star Jalsha, Sony Aath, Rupashi Bangla etc.
Our Students
We have produced some of the most brilliant names who are currently engaged in various TV serials. Some of our students who are working with different production houses are-
Geetashree (Rashee – Zee Bangla), Rituparna Das (Maitrayee – saat Pake Bandha – Zee Bangla), Oendrila (Shree – Bhalobasa Dot Com – Star Jalsa), Parthapratim (Satin Kanta – E-Tv Bangla), Oetrina (Punti – Sansar Sukher Hoi Ramanir Gune – Star Jalsa), Trilanjana (Na Hanyate – Feature Film) etc.
Course Direction Committee of SETC Institute
Managing Director – Mr. Rudrashankar Biswas
Course Co-ordinator – Mr. Arup Chowdhary
Counseling and Administration– Miss Poulomi Chakraborty